I didn't know much about Sapa before I got there. All I imagined was a wild, isolated mountainous area in the northern border of Vietnam.
My two friends and I searched on the internet and saw eye to eye that we would go for a two-day trekking trip as all three of us enjoy walking and exploring nature. So here it is, my unforgettable trekking experience in Sapa begins.
Day 1: Bus to Sapa then a short trek to Cat Cat village
Our trip started in Hanoi and we had to wake up at 5 am to prepare as the bus would come and pick us up at 6.30. As soon as we settled our back down our lovely seats, we had a short nap as we were all tired and sleepy. We stopped in Lao Cai for a while before we finally made it to Sapa at 13.00.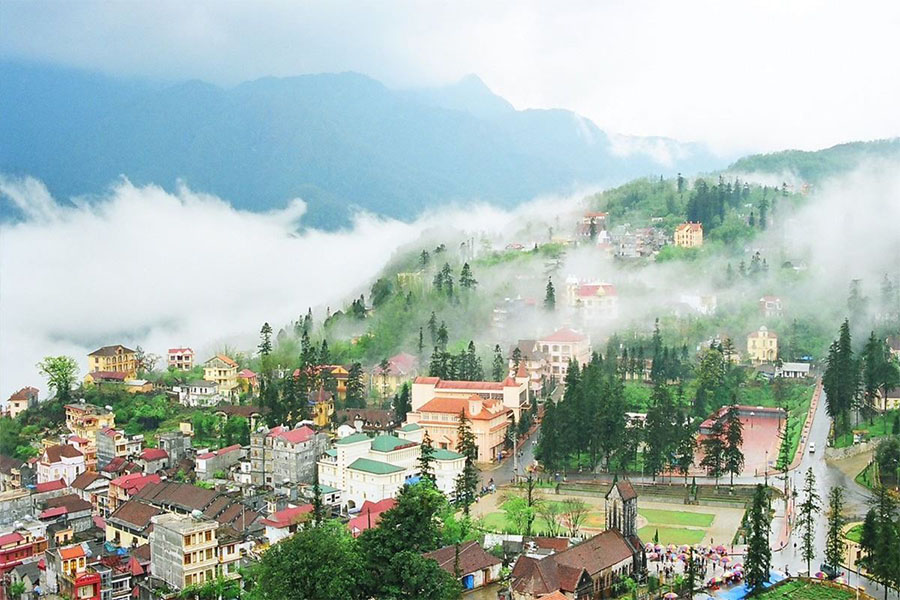 Sapa Town
Much as I had expected, Sapa in real life was a vibrant, peaceful and beautiful town. Contrast to the hustle and bustle of Hanoi, Sapa is not so big but it fits so well with the magnificent landscape.
One more thing that I really love about Sapa is the costumes. In spite of globalization and cultural assimilation, most people in Sapa (mainly consisting of highland ethnic minorities) still preserve their traditional outfits. Just looking at lovely Sapa women in their colorful dress talking to each other was something interesting to me.
(thêm ảnh về custom)
As it was already mid-noon, we quickly moved to the hotel we booked and went to a local restaurant for lunch. The food was awesome. I had worried that the food wouldn't be so good but I was wrong.
The traditional grilled pork we ordered was heavenly and it was served together with very fresh herbs. We finished everything and even craved for more.
Grilled pork
After having lunch, we gathered again and moved to Cat Cat village by bus. On the bus, we met our tour guide who is a humorous guy.
He provided us with some very fascinating information of the place we were about to visit like the meaning of the village's name, some interesting traditions of the people resided there.
At 15.00, we reached Cat Cat village. The village is situated at the bottom of a breathtaking valley, near the foot of the Fansipan peak.
The view was wonderful and my friends and I took loads of photos to make sure that we would have something to share back home.
Our trekking track was about 2.5 km and it took about 2 hours to finish. Going along the trekking track, we were all amazed by Sapa's stunning nature.
The almighty Fansipan was high above while endless green fields of rice stretched to the horizon. That will be something I never forget.
And finally, we made it to the waterfall which is our final destination. The beauty of the waterfall was overwhelming. "The water falling from above resembled an enormous dragon plummeting from heaven", said Helen, one of my friends.
We took more photos at the bridge nearby and waited for the bus to come back and drive back to the center of Sapa.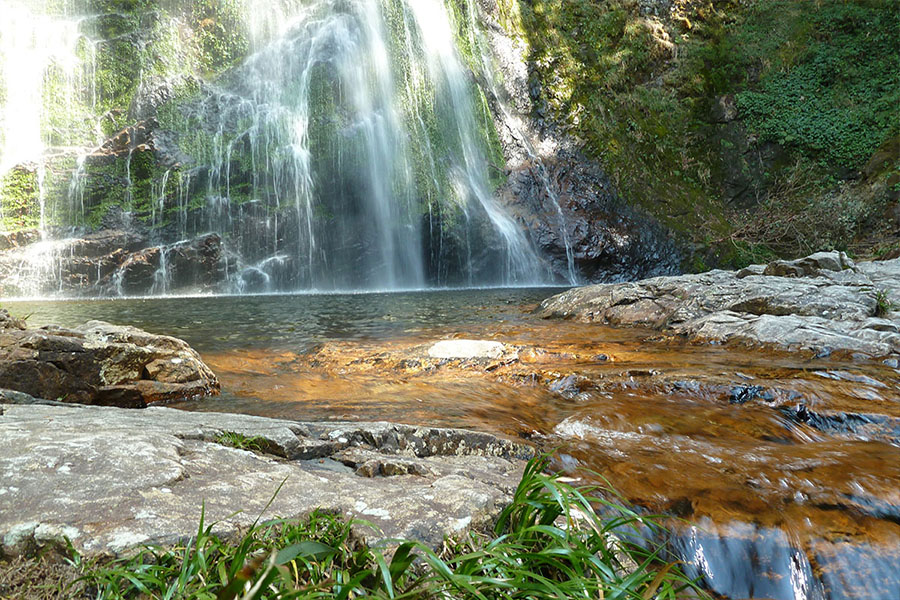 Love Water Fall
It was 17.00 and we were enjoying out evening at the hotel. It was amazing. We had campfire and we grilled our dinner ourselves. Although I am not a good cook, I was so proud for all of the grilled corn and chicken that I made. Delicious!
Finishing diner, we had a wonderful overnight chat with other tourists. Despite coming from different countries, we felt so close and Sapa was like our home.
Day 2: Lao Chai- Ta Van trekking- Back to Hanoi
The second day was a bit unlucky for us. It rained cats and dogs and we almost thought that everything would be canceled. We went for breakfast feeling bitter as our trip would not come up to our expectations.
But all of the sudden, the rain stopped and we quickly packed our backpacks to head for the next trekking site- Lao Chai. At around 8.00, our bus was driving through Y Linh Ho heading to Lao Chai, where we would stop and start our trekking track. I would say that this should be the best trekking track in Sapa as the view was beyond words.
Refreshingly green rice terraces stretching over our eyesight, fluffy white clouds floating above like a herd of hungry sheep, the magnificent Hoang Lien Son range tearing the blue sky reminding how small and weak humans are compared to nature, everything was like a fantasy.
After 3.5 hours of non-stop trekking, we finally reached Ta Van. The village is unique among many villages in Sapa thanks to its beautiful old houses. They reminded me of Hanoi's old quarter but with a very different architecture.
We were also very lucky to be invited to a local farm which is specialized in cultivating peach and were offered some. The taste was amazing. Although I had tried many types of peach before, the type in Ta Van was very special, sweet but not mushy.

Church in Sapa
It was 11.30 and we were back again to Sapa town where we would have our last lunch before going back to Hanoi. The lunch was amazing with roasted duck in soy sauce but I couldn't help feeling so sad. It was not because the trip was bad, it was the opposite.
Sapa had so much to offer but we really didn't have time to enjoy all of it. I really missed our super friendly tour guide, our delicious meals and the breathtaking landscapes of Sapa.
I looked at my cell phone and it was already 16.00. We were enjoying our last minutes in Sapa on our lovely bus. The bus was moving slowly and Sapa gradually became smaller as I was looking through the bus's window.
At 21.00, the trip was officially over and we were in hotel in Hanoi, recalling our amazing moments in Sapa. We were all sad and tired but we knew for sure that it would never be our last time in Sapa.
As many of you guys would wonder about the trip, I would like to provide some essential information that I took from my own experience so that you might have an easier time preparing for your own.
When to travel
The most suitable time for travelling to Sapa is perhaps the dry season which often lasts from October to April of the next year. The reason is that during these months it is not too wet or muddy, which would make it easier for trekking.
However, as from December to February it might be freezing, it is essential to bring some clothes with thick layers.
Where to book you tour
Actually, you may have many options regarding choosing where to book your trip and in fact choosing an authentic and trust-worthy can be quite tedious. So here are my recommendations.
Book through your hotel
Many hotels would love to offer you tours and it could be quite convenient as you don't need to do much searching. However, as many hotels receive interest from tour providers, these tours could not come up to what hotels promise you, leaving you disappointed. So be careful!
Ask your Vietnamese friends
It's best to have Vietnamese friends as your consultant. They know their country much better than you and you don't even have to pay them.
However, not everyone has Vietnamese friends and in many cases they may not know much about good travel agencies.
Book through local online agency
This way can be quite convenient as you can do everything online. It's quick. But the problem is you don't know which website is the best one so you might end up choosing something too expensive compared to the average or if worse choosing some agencies that are unreliable, making you trip a disaster.
Therefore, I highly recommend you find a trusted local online agency. They are one of the best travel agencies in Vietnam, providing authentic and trust-worthy tours for different ranges of budget.
I heard about them from one of my friends and was not disappointed. The price was reasonable and the service was no doubt excellent.
You might also seek for instruction or help in case of any sudden problems during your trip.
How to get to Sapa
Transportation is usually included in your trip package. In my case, we were offered 3 types of transport from a21tours: Bus, train and private car.
Bus: cheap and very comfortable. I chose this one for my trekking trip to Sapa and was not disappointed. However, sitting around strangers in a small space could be quite irritating for some.
Green Bus
Train: A little bit more expensive but as what I learned, going by train is a much more interesting experience as you can look though the train window and have a much livelier look at the landscape as you go.
Train
The interaction with other travellers could also be much less coward and you could know more about the others as train offers bigger space thus a better chance of hanging out with other groups.
Private car: The most expensive. But that's also understandable as you are offered much better service.
Private Car
What to bring
Clothes: Bring enough clothes and remember to choosing suitably according to the weather. Winter months can be quite freezing while summer months are very timid and hot.
Shoes are also important as trekking involves long and tiring movements. Therefore, putting on a pair of comfortable, fit sport shoes will assist you a lot during the trekking process.
Money: Bring enough cash. It's hard to find a money withdrawer in Sapa and local restaurants and hotels often don't accept credit card.
Camera: Sapa is a great place for taking photos. Being photogenic involves many other factors but having a good camera is obviously a decisive one.
For ones who are considering Sapa, I hope that my post would be of great help to you guys. Don't hesitate to write a comment if you want to ask for more details of our trekking trip.