Sapa and Halong Bay are two of the most beautiful destinations in northern Vietnam. The distance from Sapa to Halong Bay is about 435 km ỏ 270miles. However, the transfer from Sapa to Halong Bay is quite convenient. In this article, we would like to provide some recommendations to get from Sapa to Halong Bay as follows:
By sleeping local bus: 9 hours of direct transfer, Price from USD 19 per passenger
By tourist bus with a transit in Hanoi:
Track 1: from Sapa to Hanoi by bus( from $11 per ticket and 6 hours) or by limousine( from $20 and 5.5 hours)
Track 2: from Hanoi to Halong Bay by Limousine( from $16 per ticket and 2.5 hours)
By Train to Hanoi and Limousine van to Halong Bay( from $40 for all fee and around 14 hours)
By private car( from $300 per car and around 8 hours)
Sapa to Halong Bay route
Previously, tourists who wish to travel from Sapa to Halong Bay would have to spend an irritatingly long time of interrupted moving via a tedious 480 km route that requires a transit in Hanoi.
Now that the construction of Noi Bai - Lao Cai expressway was finished, getting directly from Sapa to Halong Bay is becoming much more convenient and faster than ever before(435km).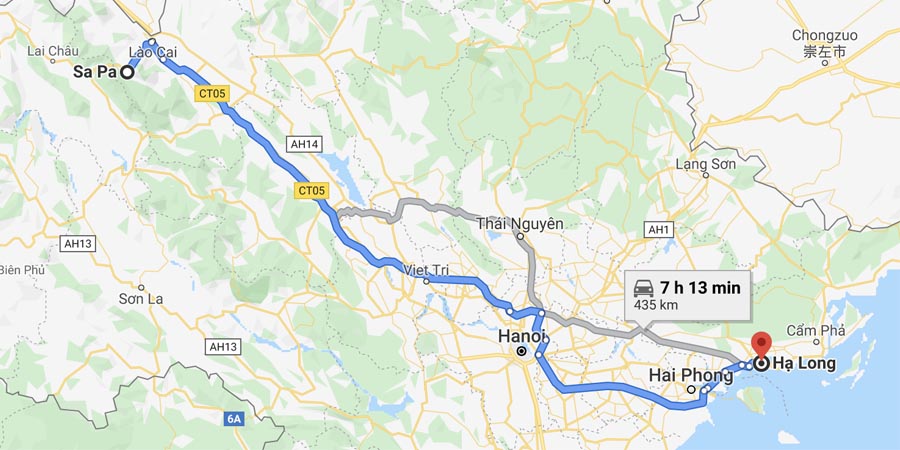 Here are different possible means of transportation that you may take, depending on your own preference and budget.
Sapa to Halong Bay by local sleeping bus
Among many possible options, traveling from Sapa to Halong Bay on a sleeping bus is a perfect choice because it is time-saving and doesn't require any transit point. However, the downside is that this direct bus doesn't support customers in foreign language, as the driver can't speak English.
The bus is provided with the latest technology such as free wifi and television, which guarantees you a comfortable and just-like-home experience. Traveling blanket and mineral water are included so that your time on the bus would be as pleasant as possible.
Ideally, it would take about 9 hours to get from Sapa to Halong Bay, which is much shorter if you compare it with the normal route that requires a transit in Hanoi. This already includes 2 breaks so that you can have a light meal and go to the toilet.
(Anh Sapa Halong bus)
The service offers you both a one-way option and a round-way option so that you might choose according to your preference. The price is $19/ adult/one way and $38/adult/roundtrip. Click here if you need.
Sapa to Halong Bay by tourist bus with a transit in Hanoi
If you do not have a rush schedule, aren't annoyed by 8-9 hours of continuous moving or simply want to enjoy the landscapes as much as possible, you can take tourist bus with a transit in Hanoi as illustrated below:
Sapa to Hanoi route by bus/limousine
To get from Sapa to Hanoi by bus or limousine, you can take our Green Sapa Bus or Luxury Limousine (with hotel pick up service). Those vehicles offer a comfortable transfer between Sapa and Hanoi on a high-quality shuttle bus, you can relax on plush seats or bunk beds with top-notch services and amenities. Sleeping bus or Limousine van from Sapa departs to Hanoi at 08:00 AM. Arrive Hanoi around 13:30 - 14:00, then change to Luxury van to Halong bay.
After around 5.5 hours of transfer via Expressway and $20 for a ticket, the van will drop passengers off at around Halong city
The price is really cheap at only $11/person for a sleeping bus ticket, but it can take up to 6 hours.
Hanoi to Halong Bay by limousine van
Continuing the trip to Halong Bay, it's convenient to take our Limousine Van from Hanoi to Halong Bay. The bus will pick you up from your hotel in Hanoi Old Quarter and drop you off at Tuan Chau harbor and Hotel in Halong Bay. It takes only 2.5 hours to reach the destination.
The price is relatively cheap, only $16/person/normal ticket.
Sapa to Halong Bay by train and Luxury van
There is no direct train from Sapa to Halong bay however, a train can join a part of your transfer from Sapa to Halong as follows:
From Sapa take a shuttle bus of car to Lao Cai train station (should be left Sapa around 6 PM) and take overnight train from Lao Cai to Hanoi that arrives Hanoi at around 5:30 AM of the next day, spend some time for breakfast. After that, you have to take a limousine van (pick up at your request address) or Private car from Hanoi to Halong bay that will arrive Halong around after about 2.5 hours.
This schedule is suitable for passengers who need to check-in for their cruise tour at 12 pm (all cruise check-in start around 11:30 - 12:00)
The total price will be around at least around USD 40 for person break down as: USD 3 for shuttle bus Sapa - Lao Cai (private car Sapa - Lao Cai will cost from USD 25); USD 25 for Overnight train Lao Cai Hanoi and another USD 16 for Limousine van from Hanoi to Halong bay.
Pros: Save you 1 night hotel as spending the whole night on the train.
Cons: Total travel time will be around 14 hours with some transit and waiting. There is only one train from Lao Cai to Hanoi at 10 pm so it's very important to do a good timing
Note: there is a train from Hanoi to Halong, but we do not recommend you using this train on this route as the travel time again is quite tedious for about 7 hours and train condition is not good for tourists.
Sapa to Halong Bay by private car
For a more private and comfortable experience, choosing a private car from Sapa to Halong would be ideal. You can be picked up at either your hotel in Sapa town, Lao Chai, Ta Van or Ta Phin Village. The travel time is also quite short (ideally 8 hours) when using the expressway route.
A big advantage of this option is that you can choose the type of car according to your need, either a 4-seat, a 7-seat or a 9-seat. Therefore, it's perfect for a family trip or a group of friends.
Private Car
The price for a 4-seat, a 7-seat and a 9-seat is $300, $350 and $400 respectively, which is quite reasonable considering how superior it is compared to the other means of transportation. (The price is per car, not per person)
In conclusion, there are no direct tourist bus services on this route (like Hanoi - Sapa, Hanoi - Halong) so you need to choose between direct local bus (saving time but just acceptable quality) or Joined-transfer tourist bus with a transit in Hanoi (cost you extra 1 or 2 hours and more expensive a bit).
If you are still planing for your ahead trip to Vietnam, it is recommended to contact directly with our operator for a better itinerary arrangement. Chat via Whastsapp at +84968450021 or send us an email about your request at [email protected].