Are you planning to travel to Sapa from Hanoi by bus (instead of train), and are wondering which is the best bus to Sapa? This article will provide detailed information about the buses to Sapa for you to choose in terms of brand reputation, quality, and affordable price.
Brands of buses in Hanoi - Sapa route
Sapa - about 376 km from the capital of Hanoi - attracts many tourists by romantic natural scenery, majestic mountains, peaceful villages, terraced rice paddies hills
There are more than 40 limousines and sleeper bus brands which would carry passengers from Ha Noi to Sapa - Lao Cai.
Hanoi Sapa bus
The earliest bus to Sapa departs at 06:00 am, the latest does at 11:55 pm. The journey from Hanoi to Sapa by bus takes about 5 hours 30 minutes. The ticket price for Hanoi - Sapa journey is about $ 12. The cheapest is $ 9 per ticket, the highest is $ 25 per ticket.
Sapa buses will be discharged at their own offices or at the Sapa bus station. The drop off points in Sapa town should be quite close to each other, if you want to choose a drop off points close to your hotel you choose a suitable bus based on those drop off points. In addition, if you book limousines, you will be picked up at the hotel lobby in the town of Sapa.
There are lots of buses which would bring you a variety of choices. However, it also confuses many tourists because each bus to Sapa has a different schedule with different fare and quality. In addition, the bus reservation is sometimes not guaranteed.
Therefore, to ensure the best interests, you should book bus tickets Hanoi - Sapa through A21 tours. You can book online tickets to go to Sapa months before your departure without worry about losing tickets, forgetting tickets because all ticket information has been sent to your email or phone number. To get in, just state your name. In addition, you will always get promo price which is cheaper than the original price and reservation is guaranteed. Customers are provided full information, photos of each bus to Sapa and can choose easily, flexible between these buses.
For instance: You can book tickets to go to Sapa from Hanoi in a 09-seat Dcar limousine departing at 7:00 and come back to Hanoi in a Sapa Shuttle sleeper bus departing at 22:00 to comfortably rest on the way back home. In case you want to change or cancel the ticket, you just need to call at least 3 days in advance (depending on the bus brands).
Currently, there are 03 types of buses to Sapa: VIP 9 seat Limousine, sleeping bus, and Private Cabin bus. Here are some suggestions for the best bus to choose according to each purpose:
Is The VIP 9 seat Limousine the best bus from Hanoi to Sapa?
If you travel to Sapa in groups or family and prefer to have the most private and luxurious space, you can choose Limousine to Sapa. The 9-seat VIP Limousine remade from the standard 16-seat cars usually has very luxurious, comfortable furniture. Vehicles are invested with all the most modern facilities such as Wifi, USB charging port, 220V power outlet, 21 inch LED screens and high-quality speaker systems. In addition, there are a cold towel, mineral water, and snacks for free. The company also has staffs and drivers trained professionally, with the attitude of enthusiastic service and ability to communicate English well.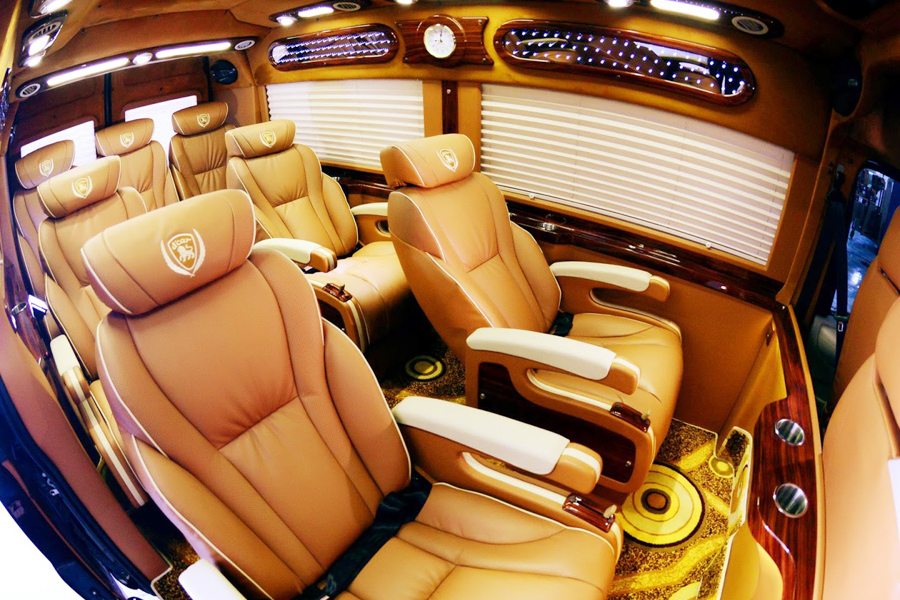 Inside 9-seat Dcar limousine bus
Currently, some highly appreciated brands of Limousine car are Ecospa bus, Greenlion, Golden Horse, New Enjoy Limousine, Sapa Luxury Limousine.
Limousine to Sapa only sells 09 tickets per trip for 09 business class seats. With schedule and fares as below:
Hanoi - Sapa ($20/ticket): 02 trips/day, pick up at 7 am and 15 pm in Hanoi Old Quarter or Nhat Tan - Au Co bridge.
Sapa - Hanoi ($20/ticket): 02 trips/day, pick up guests at 08:00 - 08:30 and 15:00 - 15:30 at the hotel lobby in Sapa town.
With spacious seats, high-class services, and convenient shuttle services, limousines to Sapa are increasingly chosen by customers.
>> Book Limousine van Hanoi Sapa USD 20/tickets
High-quality sleeper bus to Sapa: the most relaxing, the most affordable price
It takes about 5h30 to go to Sapa from Hanoi. So, if you want to have a good night's sleep on your bed while you continue your journey, you can choose a high-quality sleeper bus.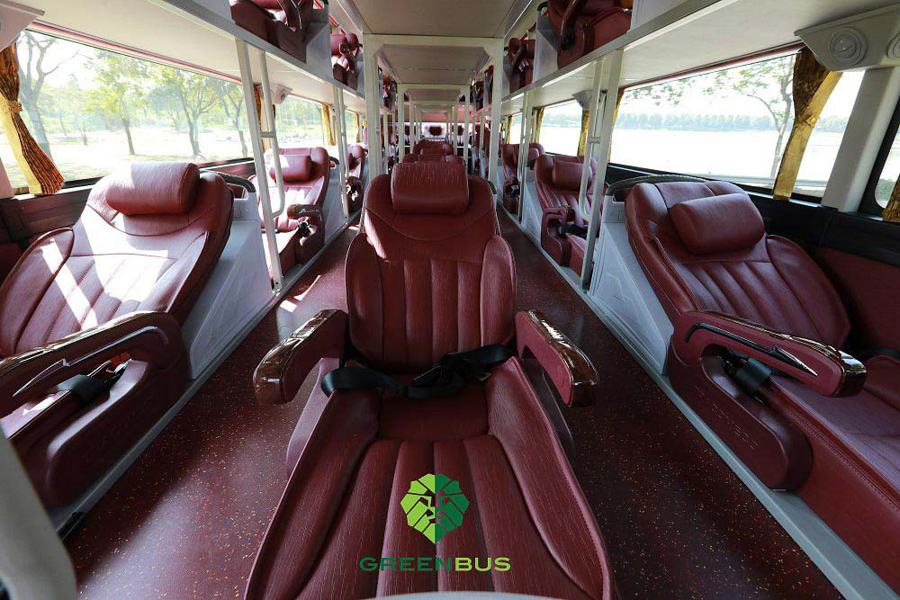 Sapa Shuttle bus Hanoi
Some the high-quality bus brands to Sapa strongly recommended are Green bus, Goodmorning Sapa, Sapa Express, Sapa Shuttle Bus, Queen Cafe bus. They all are tour model buses, specializing in serving tourists, running straight from Hanoi to Sapa, not through transshipment in Lao Cai. The vehicles are very good quality, clean, equipped with full modern facilities such as flat screen TV, Wifi, free drinking water, toilet in accordance with European standards. The seats of the car are made of luxurious leather, smooth and colored lights.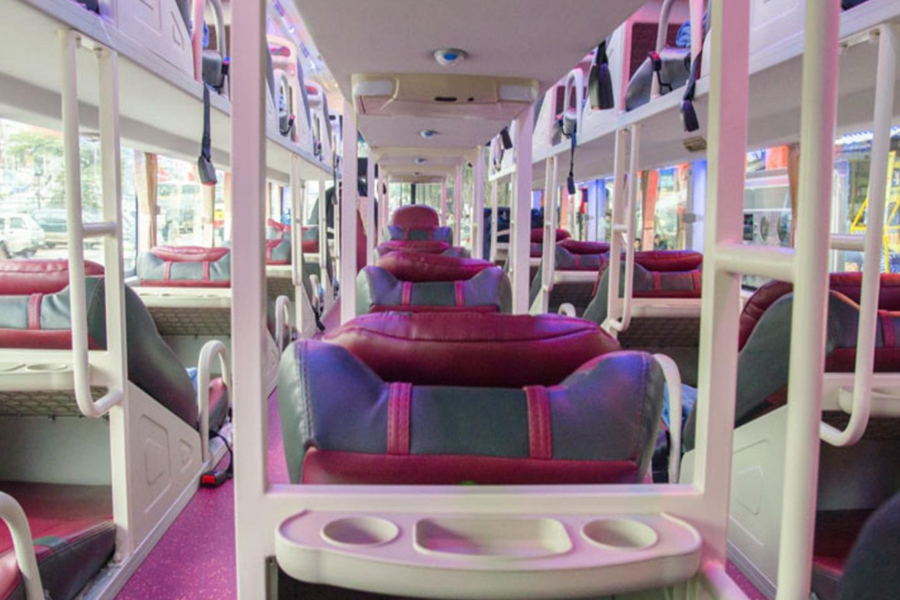 Sleeping bus Hanoi Sapa
Sapa Shuttle bus to Sapa will pick up guests at hotel arround the Old Quarter area by minivan then transfer to Bus Office for the departure to Sapa.
Schedule, the fare of Hanoi Sapa Sleeping bus:
Hanoi - Sapa ($10 - $11/ticket): 03 trips/day at 7:00 am, 2:00 pm and 10:00 pm from your Hotel in Hanoi old quarter.
Sapa - Ha Noi ($10 - $11/ticket): 04 trips/day at 8:00, 13:30, 15:30, and 22:00 from bus office in Sapa Town (around Dien Bien Phu street - Ngu Chi Son street).
With reasonable price, comfort and relaxation, the sleeper bus is the most popular vehicle to go to Sapa from Ha Noi.
Private cabin bus: the most spacious, the most comfortable
Beside 02 main vehicles to Sapa which are The VIP 9 seat Limousine and sleeper bus, Fansipan bus company launch Private cabin bus with a system of 20 wide private cabin, built-in toilet, and airy space remade from the ordinary 40 beds sleeping bus. Along with professional bilingual guides, Privae cabin bus brings passengers comfort and convenience throughout the journey from Hanoi to Sapa especial for the night transfer.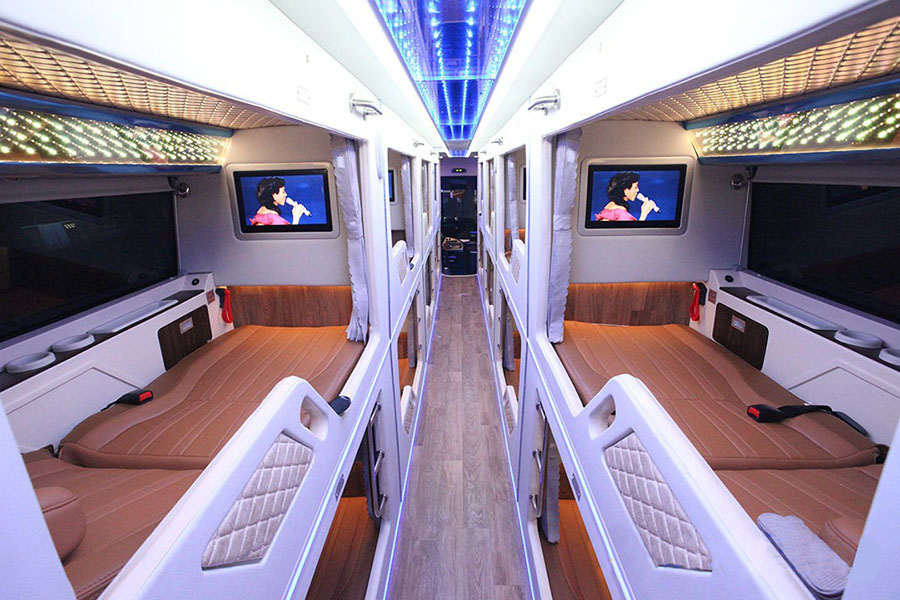 Private -Cabin Bus Hanoi Sapa
The bus pick up guests free of charge from the areas of Hanoi Old Quarter, and pick up at Noi Bai International Airport (extra USD 2/ passenger). In addition, the coach will always run straight from the Hanoi Office to the Sapa Office and vice versa, not stopping at Lao Cai.
Schedule and fare of Private Cabin bus Hanoi Sapa:
Hanoi - Sapa: departs at 07:00 am and 10 pm daily from No. 01 Cho Gao street, arrives in Sapa after around 6 hours of transfer.
Sapa - Hanoi: departs at 1:30 and 4:00 pm from No, 588 Dien Bien Phu street, arrives in Hanoi at No. 01 Cho Gao Street, Hanoi