Ninh Binh, located 94 km to the south of Hanoi, is one of the destinations that you should never take off your list when travelling to Vietnam. Ninh Binh is renowned for not only its natural landscapes such as Trang An or Tam Coc Bich Dong but also its man-made architectures including Bai Dinh Pagoda- The South-East Asia largest Buddhist pagoda.
This Blog, A21 Tours will introduce detail about transfer between Hanoi and Ninh Binh with top 5 means of transportation as: Train, Limousine van, Private car, Local bus and Motorbike.
| Means | Duration | Prices | Advantages | Disadvantages |
| --- | --- | --- | --- | --- |
| Train | 2.5 hours (8 times per day) | USD 8 - 10 | Safety, Good View | |
| Limousine van | 2 hours (6 times per day) | USD 10 - 14 | Pick up and drop off service | |
| Private car | 1.5 - 2 hours (depart at any time) | ~ USD 60 | Conveniences, Privacy | |
| Local bus | ~ 2.5 - 3 hours (multiple departure time) | | Cheap price | |
| Motorbike | ~2.5 - 3 hours | ~ USD 10 / day | Adventurous, | |
Hanoi to Ninh Binh by Train
Train is also quite a good option. It's economical and can be really fun too.
For ticket, it can be easily booked online at Vietnam's Railway official website dsvn.com or bought at the Hanoi station. The price can vary according to the train and the types of seats.
There will be the hard seat, soft seat and berth on the train, but you should choose the soft seat or the berth for the best experience. The available train to travel from Hanoi to Ninh Binh are SE5, SE7 and SE19. The stations are open 24/7 and all year round. There are 8 to 10 trains Hanoi to Ninh Binh in a day, starting around 6:00 and the last train leaves at 20:00, so basically you can travel from Hanoi to Ninh Binh by train anytime.
The train Hanoi - Ninh Binh journey takes 2 – 2.5 hours without delay. You can see the continuously changing scenarios from the window of the train.
The Hanoi train station is at 120 Le Duan Street, Hoan Kiem District, Hanoi and Ninh Binh railway station is at 1 Hoang Hoa Tham Street, Ninh Binh city.
The train ticket price can vary between under $5-$10 for a one-way ticket. You can book your tickets online at the official website of the Vietnam Railway.
If you wish to buy the ticket traditionally, please remember to bring your identification paper or passport with you.
On the train, you may also be arranged to sit with other people. For many people, interaction with strangers can really be awkward.
But don't worry as a simple greeting or hand gesture wouldn't hurt anyone. You may have the chance to make new friends during the trip.
However, as the train only stops at the station, you will have to take a taxi to your travel destination. You also need to be on time.
It's advised to arrive at the station 15-30' prior to the departure time if you don't want to miss your trip. Click here if you need a ticket.
Hanoi To Ninh Binh Limousine
In case you want a more comfortable option even if it can be a little bit more expensive, a cozier means of transport like our limousine can be a good choice.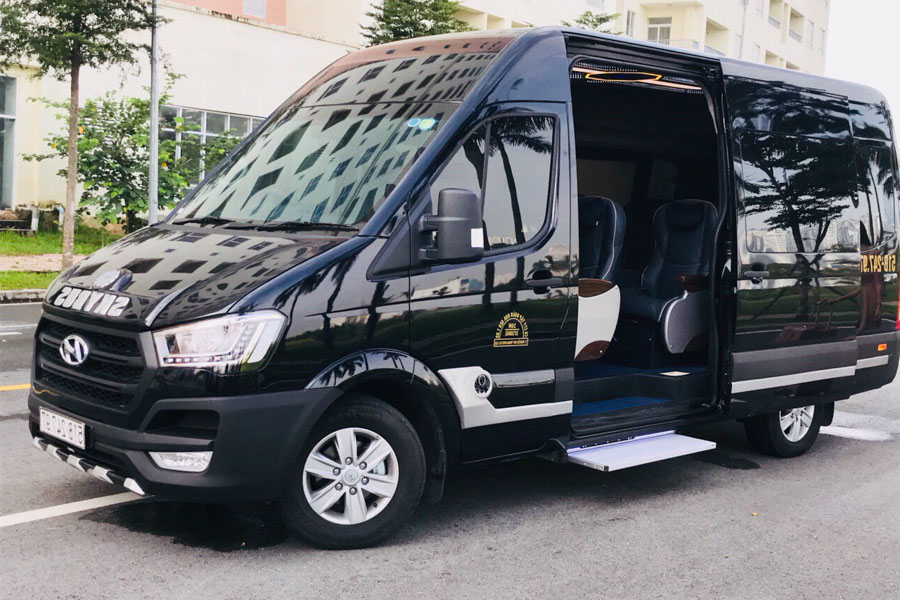 The price is $12/one way, which is not really expensive especially with hotel pick up and drop off service.
It will take around 1.5 - 2 hours to get to Ninh Binh but it may vary according to the traffic.
An advantage of limousine van over other options is its spaciousness and comfort. You can also customize your seat as it can be reclined up to 45 degrees, which will make your journey as pleasant as possible. Rechargeable USB ports, free WIFI and water are also free to use.
This option is perfect for a large group as there are up to 9 seats and as the van is quite large, you will have a great time chatting and interacting with the others.
If you travel in small groups, you can also book one or two-seat and share the Van with other travellers, a good way to save your budget while traveling. You can book here
Hanoi to Ninh Binh Private car
Opting for a private car would also be perfect especially if you want a private and cozy trip and don't mind the price at all. But you get what you pay for. The service is superior to other options.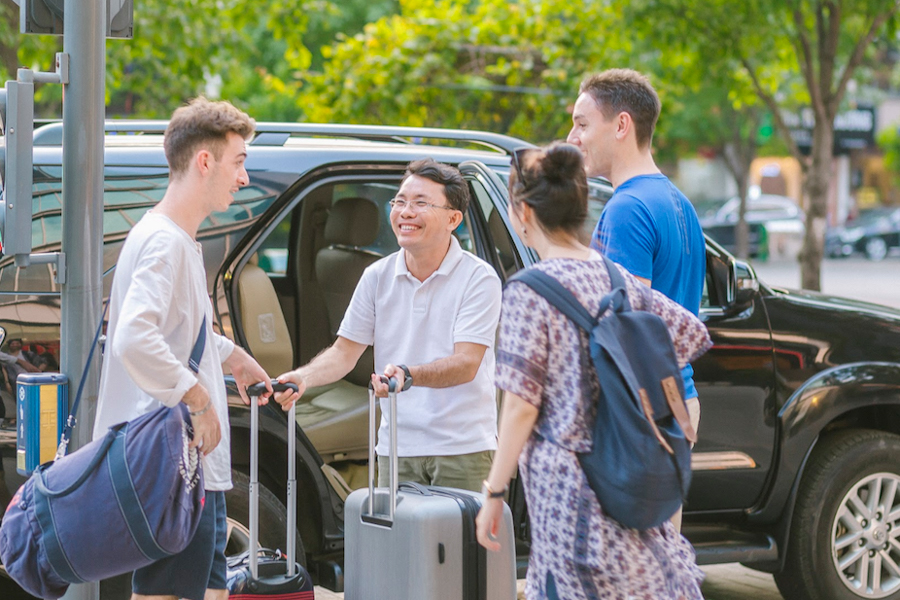 Using a private car would be very helpful for travellers who would like to go straight from the airport as this is the only type of transport available for transferring from the airport to Ninh Binh.
A private car is also ideal for people who value private space as you don't need to share with anyone.
Another advantage of a private car over other options is that you have the flexibility to travel as you're under no fixed schedule and have the privilege to choose whenever to go.
There are 3 types of cars that you can choose according to your needs including a 4-seater, a 7-seater and a Limousine D-car with 9 seats.
4-seater car: Suitable for 2 passengers as a seat would be spared for the luggage and another for the driver. The price is $85.
7-seaater car: Minus one seat for the luggage and another for the driver, a 7-seater would be perfect for 5 passengers and the price is $95.
9-seater car: For bigger groups, choosing a Limousine D-car would be ideal as it can deliver up to 7 passengers excluding one seat for the luggage and another for the drivers. The price is $155.
You can also have a look at other taxi companies in VietNam such as Mai Linh, Thanh Cong or Thanh Nga. However it's worth noticing that these companies don't provide language assistance for users who speak other languages rather than Vietnamese, which can cause you difficulty booking your trip.
There are also chances that you may encounter scams as many of the taxi drivers from these companies can overcharge you or intentionally extend the trip by going around over and over to increase the cost. We are here if you need help.
Hanoi To Ninh Binh Local bus
Using the local bus is also a possible option. It's suitable if you are on a budget and cannot afford other more expensive means of transports.
There are various bus stations in the city center, where you can easily buy a ticket to get on the bus to Ninh Binh. The price may also vary according to the company, but usually, it ranges from 5$ to 8$. However, these buses are often noisy with people talking and can be quite crowded during big holidays as people return to their homeland, which may be really unpleasant. Another drawback is that the staff of these Local Bus are for most of the time monolingual in Vietnamese, so if you can not speak Vietnamese, it would be hard to book your ticket let alone if you have some problems during the trip.
In addition, it may take quite a long time as the buses often stop occasionally on the road to pick up more travellers (even though it is illegal). Lastly, the bus would drop you off at the Halong Bus Station, so you need to take a cab to your final destination.
Hanoi to Ninh Binh Motorbike
Travelling by motorbike would be an unforgettable experience for any tourist as you can control the motorbike and get to the place by yourself. You can explore the beauty of Vietnam as you go. From Hanoi to Ninh Binh, you can easily travel through the A1 Highway or the Hoc Chi Minh Road. For rental, it's relatively easy to spot motorbike stores in the Old Quarter or West Lake area with English-speaking staff or owners Usually, these rental stores offer various types of automatic, semi-automatic, manual, and touring bikes with monthly, weekly, and daily rental services.
Recommended motorcycle store rental in Hanoi: tigitmotorbikes
The price may vary from store to store and depend on the type of motorbike you would like to rent but usually it takes around $7 to $15 per day (an amount of earnest money is often required). However, riding a motorbike is quite dangerous in Vietnam as the traffic condition is really bad especially during rush hours and road quality is also not very good. In addition, you may get into trouble with the police if you don't have a license. Last but not least, it's important to search for the route you would take in advance if you don't want to get lost. Finding the right road can be tedious if you're a foreigner and getting lost can easily happen if you don't pay close attention to the details on the map. The travel time may vary according to your own speed but usually, it takes for about 4-5 hours.
We always offer you the best services at a competitive price. Therefore, DO NOt hesitate to choose us as your partner.