On Jan 23rd, 2020, a woman was back Vietnam from Wuhan and she was the first confirmed case of Coronavirus(COVID-19) in Vietnam. Up to now (Mar 17, 2020), there have been 61 cases of COVID-19 in Vietnam. This information makes both the Vietnamese and international tourists nervous and scared. The Vietnamese government did and is trying to fight against this dangerous disease. Certainly, both domestic and foreign travelers have questions about the status of COVID-19 and the safety for traveling now? Therefore, we hope this post can provide you with full information.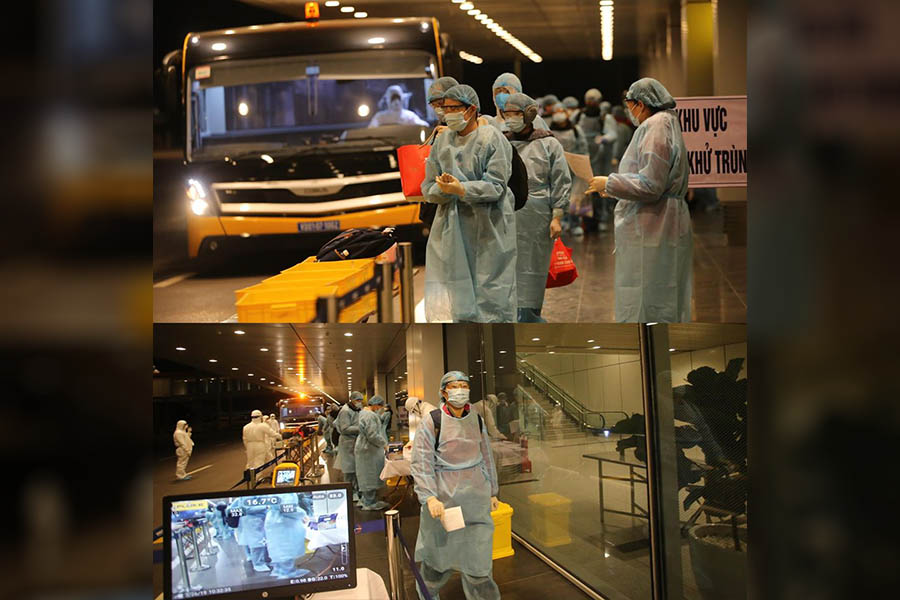 Current Coronavirus Status in Vietnam(the information will be daily updated)
1. Cases: 61 (17-March-2020)
| | |
| --- | --- |
| Confirmed infections | 61 |
| Deaths | 0 |
| Serious or Critical | 0 |
| Recoveries | 16 |
| Quarantined cases | 29929 |
Confirmed cases by province in Vietnam
Lao Cai: 2
Vinh Phuc: 11
Ninh Binh: 1
Quang Ninh: 5
Ha Noi: 14
Thanh Hoa: 1
Hue: 2
Da Nang: 3
Quang Nam: 3
Khanh Hoa: 1
Binh Thuan: 9
Ho Chi Minh City: 8
You should not discover beautiful Vietnam at this time to protect yourself and the others.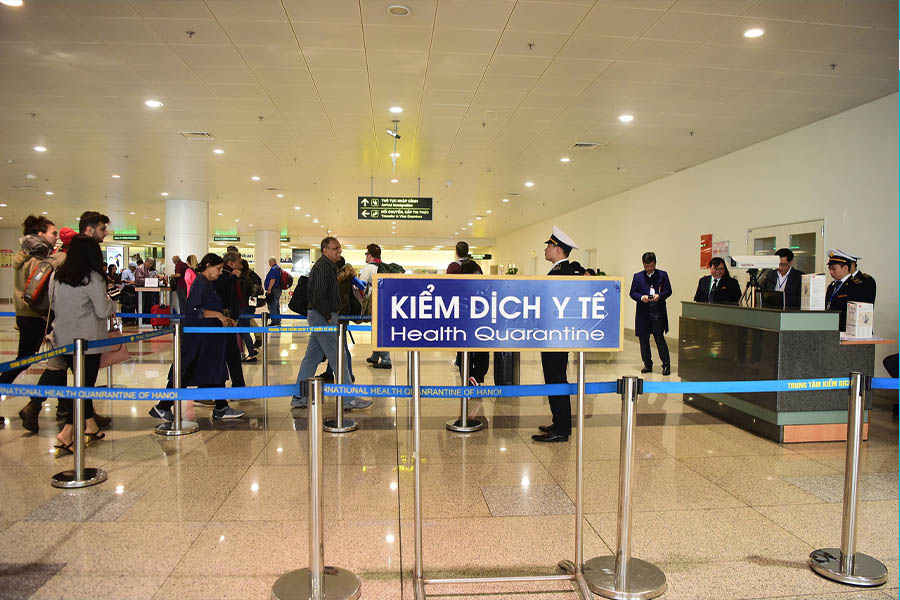 Policies from the government
When a COVID-19-infected person is found, he or she will be taken to the hospital and get special treatment. People who met the patient would be kept isolatedly in 2 weeks.
Whoever is back from England, France, Germany China, especially Wuhan, will be separated from the others in 2 weeks.
Provide facemasks and hand-washing liquid in some places freely.
Update continuously the latest information.
Close overland border crossing between Vietnam and China
Suspend all flights from and to mainland China
Health and safety precautions for travelers
Travelers in Vietnam are encouraged to take sensible precautions against COVID-19 during their trips.
The World Health Organization outlines these basic practices to keep yourself and your loved ones safe:
Avoid traveling if you have a fever and cough. If you have a fever, cough, and difficulty breathing, alert health care services and share with them your recent travel history.
Maintain social distancing. Stay a metre or more away from others, especially those who are sneezing or coughing, or have a fever.
Wash your hands regularly with soap and running water. You can also use an alcohol-based hand-sanitizer to spray your hands as often as you like.
Cover your mouth and nose with a tissue when you cough or sneeze. Dispose of dirty tissues immediately and wash your hands after coughing or sneezing.
Avoid contact with live animals. Wash your hands with soap and water if you touch live animals or animal products in markets.
Eat only well-cooked food. Make sure your meals especially animal proteins and dairy products are thoroughly cooked and prepared in a sanitary environment.
Discard single-use masks. If you choose to wear a single-use mask, ensure it covers your nose and mouth, avoid touching the mask and wash your hands after removing it.
Any travellers experiencing symptoms of the virus — fever, cough and difficulty breathing — should immediately call Vietnam's health hotline: +84 19003228.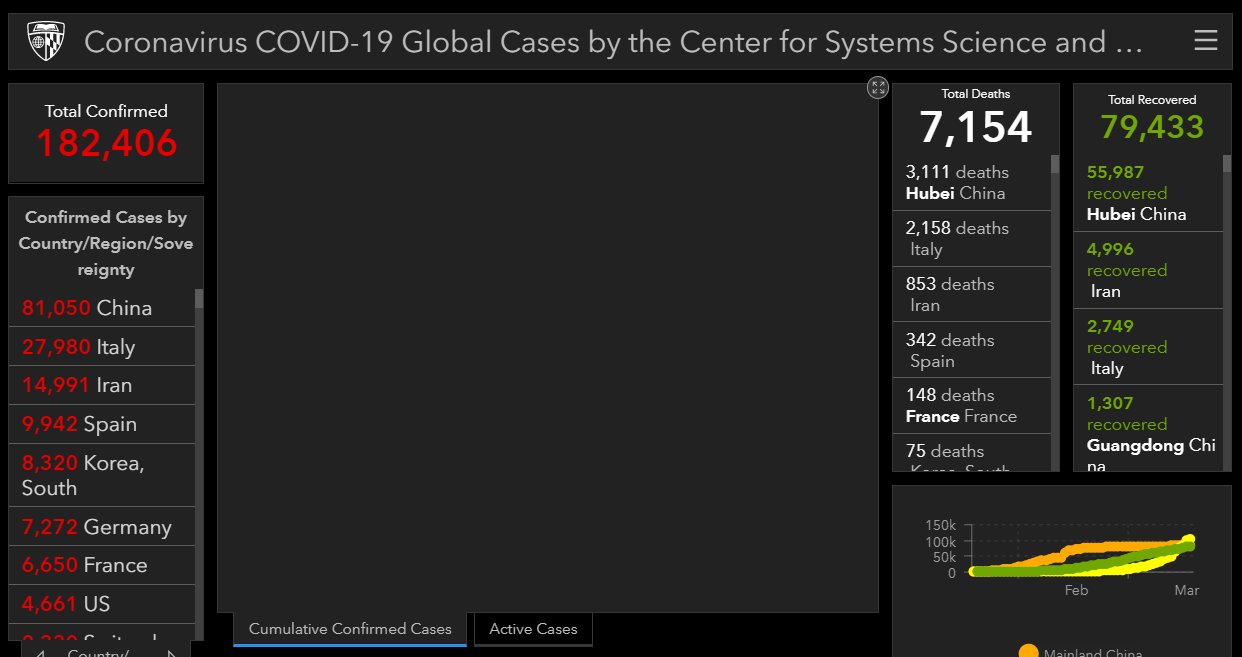 More information about the current status in other countries.
Confirmed cases by country in the world (17-March-2020)
Total COVID-19 cases: 182406 Deaths: 7154 Recovered: 79433
Mainland China: 81050
Italy: 27980
Iran: 14991
Germany: 7272
South Korea: 8320
Spain: 9942
What is Coronavirus?
Coronaviruses (CoV) are a large family of viruses that cause illness ranging from the common cold to more severe diseases such as Middle East Respiratory Syndrome (MERS-CoV) and Severe Acute Respiratory Syndrome (SARS-CoV). A novel coronavirus (nCoV) is a new strain that has not been previously identified in humans. Its official name is COVID-19.
Where is COVID-19 from?
Coronaviruses are common in many species of animals, such as camels, cattle, cats, and bats. On occasion, strains mutate and spread from animals to humans.
At the end of December, Chinese authorities identified the outbreak of a new form of coronaviruses- COVID-19. According to experts, COVID-19 first jumped to people in a seafood market that sold live animals in the central Chinese city of Wuhan.
How dangerous is it?
The fast spread of a new coronavirus in China has prompted global alarm, with neighbouring states closing their borders, global airlines suspending flights and some governments barring entry to foreign nationals who have recently been to the Asian country.
The rapidly spreading virus, which is thought to have originated in the central city of Wuhan in late December and has since been detected in more than two dozen countries, has infected more than 44,600 people and killed at least 1,113 people in mainland China. One person in Hong Kong and another in the Philippines have also died from the virus, known as COVID-19.
What are Coronavirus's symptoms?
For confirmed COVID-19 infections, reported illnesses have ranged from people with mild symptoms to people being severely ill and dying. Coronavirus Symptoms can include:
Fever
Cough
Shortness of breath
How to prevent it?
There is no currently any vaccine to prevent COVID-19 infection. The best way to prevent infection is to avoid being exposed to this virus. However, as a reminder, the CDC always recommends everyday preventive actions to help prevent the spread of respiratory viruses, including:
Avoid close contact with people who are sick.
Avoid touching your eyes, nose, and mouth with unwashed hands.
Stay home when you are sick.
Cover your cough or sneeze with a tissue, then throw the tissue in the trash.
Clean and disinfect frequently touched objects and surfaces using a regular household cleaning spray or wipe.
Use facemask when go out or meet the sick people.
Wash your hands often with soap and water for at least 20 seconds, especially after going to the bathroom; before eating; and after blowing your nose, coughing, or sneezing.
If soap and water are not readily available, use an alcohol-based hand sanitizer with at least 60% alcohol.
Well-cooked food is encouraged
Some useful sources about coronavirus.
You should follow 4 websites to update the exact and latest information:
---